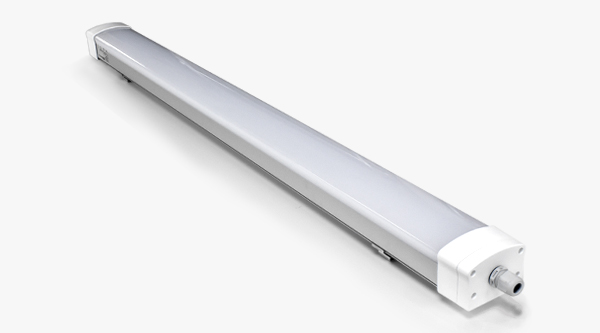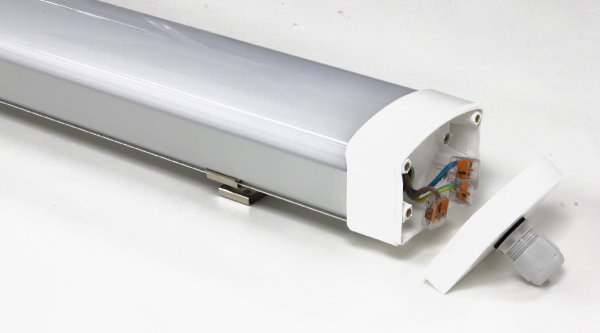 Characteristics :
• High-quality energy-efficient linear LED fixture
• IP65 dust and water proof, IK10 impact resistant
• Suitable for the most polluting environments
• Complete anodized aluminum housing
• LEDs mounted on aluminum instead of plastic
• Suitable for ambient temperatures up to 35 ° C
• Uniform clear white light (5000k)
• Minimal glare through opal shielding
• Fixed or pendant mounting
• Is eligible for the Energy Investment Allowance 2019 (EIA)
• Warranty on both LED and transformer
Versions:
• 1200mm, 40W, 5000K
• 1500 mm, 60 W, 5000 K
Aquila Series
The Aquila Series is an energy-efficient, high-quality linear LED luminaire for indoor applications. The fixture is completely made of aluminum and has an opal polycarbonate cover. The Aquila Series is fully IP65 dust and waterproof. The fixture can be used for a wide range of purposes, such as workshops, sports halls, storage and production areas. The Aquila Series is very easy to connect and comes standard with internal transit wiring.

Made from aluminum
For economic reasons, LED fixtures in the current market are often made from plastic. The plastic cannot properly dissipate the heat generated by the LED burning. When the LED luminaires are purchased, nothing is wrong yet, but the initial light intensity will decrease rapidly in the long term due to poor heat management. The Aquila Series is equipped with a large number of LEDs which are mounted on an aluminum printed circuit board. This circuit board is mounted on an aluminum heat sink. This engineering allows the ambient temperature to cool the entire fixture well. This optimum heat management (both the printed circuit board and the complete fixture made of aluminum) results in a low decrease in the initial light intensity during the burning time, so that the fixture continues to deliver top performance not only now but also in the future.

Different versions
The Aquila Series is available in both a 40W, 1200mm variant and a 60W, 1500mm variant. Both versions are equipped with internal feed-through wiring as standard. The luminaires are suitable for an external power cable with a maximum diameter of 12 mm. The luminaires are supplied with an additional cable gland, making it possible to connect a subsequent luminaire from the other side. A lighting line can therefore be realized quickly.